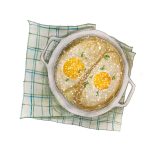 to pair with Bonarda dell'Oltrepò Pavese DOC Sparkling
Pavia-style soup
The recipe of the Pavia-style soup dates back to 1525 when French and Spanish troops engaged in an epic battle on this land. It is said that the soup was served by a peasant girl to the King of France, Francis I, imprisoned here after his defeat. A few poor ingredients, whatever was available in her pantry, to reinvigorate the worn-out King.
Ingredients for 2 servings:
For 500 ml of broth: 25 g of onion, 25 g of celery, 25 g of carrot
25 g of butter
2 spoons of Grana Padano PDO
2 slices of bread
2 eggs
½ hen thigh
1 bay leaf
1 clove
Salt to taste
Instructions:
Place all the ingredients into 1 liter of cold water, including the onion stud with the clove and coarse salt. Turn the heat on and let simmer for 2 hours. Then, strain the broth. In the meantime, brown the bread slices into the butter. Place them into soup bowls and cover them with the eggs and the broth. Sprinkle with Grana Padano and bake at 60° C for 5 minutes.