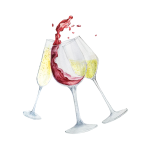 Oltrepò che siamo
Oltrepò che siamo, from vine to wine
Once upon a time there was the Oltrepò Pavese. The area south of the River Po has been crossed by distant populations since the first millennium B.C. and heavily influenced by the bordering regions of Piedmont, Liguria, and Emilia-Romagna. The oldest evidence of grapevine dates back to prehistoric times, as proven by a shoot found in the Casteggio area. "Good wine, hospitable people and large wooden barrels": the words of Greek geographer and historian Strabo, traveling with the Roman troops around 40 B.C., seem to attribute the invention of the barrel to the vine growers of Oltrepò. Thus, began the story of wine in the Oltrepò Pavese a long time ago.
"Oltrepò che siamo, dai vignaioli al vino" is a project sponsored by Regione Lombardia, Chamber of Commerce of Pavia and Unioncamere Lombardia in partnership with Consorzio di Tutela dei Vini dell'Oltrepò Pavese, Consorzio Club del Buttafuoco Storico and Distretto del Vino di Qualità dell'Oltrepò Pavese.
Its objective is to promote the territory and its food and wine excellence. A tale originating in the vineyards, as told by the voices of those who embraced this territory and still devote each day to vine growing, enriched with historical notes and tips meant for enthusiasts, tourists, and curious people approaching the Oltrepò Pavese for the first time.
"Oltrepò che siamo" is a project sponsored by
For interviews and video takes, we would like to thank: Antonio Achilli, Matteo Bertè, Valter Calvi, Marco Calatroni and the Brambilla family, Elena Cavallotti, the Giorgi family, Ermanno Rebasti, Francesco and Umberto Quaquarini. Texts by Francesca Chiades.
Website by C.C.d.B.S. P.I. 02054090184 on December 2021