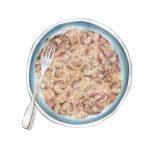 to pair with Oltrepò Pavese DOC Rosso
Risotto with Fagioli di Gombolò
Typical of the Lomellina region, Fagiolo di Gombolò is a unique variety of beans produced exclusively at a local level. The processing is carried out almost entirely by hand and its name originates from the verb "borlare", "to roll" in the Lombard dialect. According to tradition, "Ris e faso" – rice with beans – is its most common use.
Ingredients for 2 servings:
150 g of "Carnaroli da Carnaroli Pavese" rice
25 g of lard
25 g of Cipolla di Voghera
150 g of Fagioli di Gombolò
25 g of Grana Padano PDO
½ a glass of Bonarda dell'Op Doc
Butter to taste
Extra virgin olive oil to taste
1 bay leaf
Instructions:
Peel the beans and blanch them in salted water. Put a knob of butter in a pan and bring to heat. Add the finely chopped onion and let brown together with the lard. Then add the beans. Add the rice and let it toast, stirring frequently; add the bay leaf and the Bonarda dell'OP and let evaporate. Add the cooking water of the beans little by little and let cook. Salt to taste and, once cooking is completed, add another knob of butter and the Grana Padano PDO to cream the risotto.