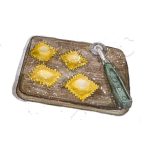 To pair with Oltrepò Pavese Doc Barbera
Pavia-style agnolotti
A tradition originating in Piedmont, agnolotti is a type of fresh pasta filled with stewed or braised beef. They are dressed with the same ingredients used for the filling.
Ingredients for 4 servings:
300 g of type 00 flour
3 eggs
1 onion
1,5 lt of beef broth
700 g of chopped beef
1 medium egg
Nutmeg to taste
Salt to taste
Black pepper to taste
60 g of Grana Padano PDO, grated
40 g of butter
1 rosemary sprig
3 Savoy cabbage leaves
1 glass of Buttafuoco DOC aged in wood
Instructions:
Start with the fresh egg pasta. Pour the sifted flour into the standing mixer; add a pinch of salt and the eggs and knead until smooth. Let the dough rest in the refrigerator for at least 1 hour. Then, move on to the filling. Finely chop the onion and let it brown in the butter, adding the rosemary and a little bit of broth. Once the broth has evaporated, remove the rosemary sprig and let the meat brown. Once the meat is ready, add salt, pepper, wine, and little by little the beef stock. Cover the pot and let cook for no less than 2-3 hours, adding more broth when necessary. Once the meat is cooked, let it cool down and recover the gravy, which you will use to dress the pasta. Blanch the Savoy cabbage for a few minutes; once the leaves are soft, drain them. In a mincer, grind the meat and the cabbage until the mixture is smooth. Beat the egg in a large bowl. Add a pinch of nutmeg and the Grana Padano, whisking until smooth. Retrieve the pasta dough from the fridge, roll it out and prepare two thin sheets of the same size. Place a dab of minced filling on one of the sheets; brush the area around the filling with water and place the other sheet on top, gently pressing with your hands to let them stick. Using a pasta wheel or a small glass, cut the agnolotti. Bring the broth to a boil and cook the agnolotti in it for two minutes. Drain and dress using the gravy previously put aside.